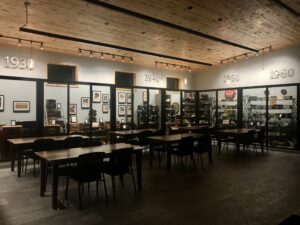 The D.J. Everett III Radio Room was founded in 2019 by Beth A. Mann, owner of the Edge Media Group (WKDZ/WHVO/WKDZ-FM/WPKY) in Cadiz, Kentucky.
D.J. Everett III was born June 4, 1947. He was a lifetime broadcaster. His radio career began at WKOA in Hopkinsville, Kentucky. He was also a journalist for WHOP and WAVE. He was the producer and coordinator for University of Kentucky Sports Network in the early 80's. DJ built and managed one of the first LPTV stations in Kentucky, TV43, in Hopkinsville. He was the owner of WKDZ AM/FM in Cadiz and WHVO (formerly WKOA) in Hopkinsville. He was an inductee of the Kentucky Broadcasters Association Hall of Fame and University of Kentucky Journalism Hall of Fame. He passed away February 22, 2015, leaving behind a legacy that deserved recognition such as the D.J. Everett III Radio Room and Legends Room adjacent to it. He willed his private collection of approximately 75 radios and various speakers to Beth A. Mann.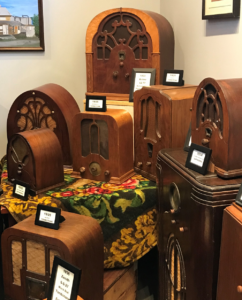 Beth A. Mann had a lifelong dream of owning radio stations. D.J. Everett III and his wife, Elizabeth Lilly Everett, helped make that dream a reality in 2015. Beth carefully researched every radio left to her from D.J.'s private collection, and immediately started adding to it with the goal of having at least one radio for every year since radio's birth in 1920. She is still buying radios today.
The D.J. Everett III Radio Room and adjacent Legends Room was built in 2019 as an addition to the studios of WKDZ/WHVO. It's approximately 2,000 square feet and showcases about 300 radios, starting with a 1919 Commerce Radiophone Crystal Set that required Morse Code. The collection includes a 1923 Atwater Kent 10B breadboard, a 1933 Airline 62-122 owned by Hunter Green (Elizabeth's Grandfather), a 1936 Zenith 6-S-27 tombstone, a 1937 Zenith 6-S-254 "teardrop" console, a special WWII "morale" set, a 1946 Bendix 526C catalin radio, and an amazing post-war variety of radios. The 50's, 60's and 70's collection is still growing daily.
The rich history of WKDZ is on exhibit as well, including pictures, documentation, and audio from its founding father, Wilburn "Willie" Wilson. The Legends Room features many local radio icons and original radio studio equipment of WKDZ. There is a special tribute to Leo Wilson, engineer who built WKDZ and his brother, Willie Wilson.
The D.J. Everett III Radio Room is used as a business and training center for The Edge Media Group and its clients. It is open during regular business hours, Weekdays 8 – 5 p.m.